This admission cycle was rich in new trends and records for most universities. Most schools released application data and statistics. So, it's high time to draw conclusions. We prepared a detailed review for applicants to list the main trends of the recent admission and share useful info about the upcoming application cycle.    
List of the Most Popular Universities (2022-2023)
First, let's look through the most popular colleges this academic cycle. Some institutions had a significant number of admissions that broke the records for the last 10 years.

The University of California Breaking Record
During the 2021-2022 admission cycle, the University of California broke all the records. It was the most popular among the applicants, resulting in an increasing number of applications from 7,140 in 2021 to 210,840 in 2022. Also, the recent admission cycle was characterized by a socioeconomic diversity of applicants.
2022-2023 Application Trends
Record Applications and Rejections
The recent admission cycle became record-breaking for many institutions. Together with the University of California, Harvard, Yale, Brown University, and Dartmouth reported a remarkable increase in applications. 
Unfortunately, there is the other side to such admission records. A growing number of applications means that many prospective students are rejected. So, the competition becomes tougher every year, especially in highly selective universities, increasing the gap between top schools and community colleges.
What Influenced the Applicant's Choice
Several factors affected the college selection during the 2021-2022 admission cycle. Here are the major ones:
University's academic reputation;
Availability of the desired program;
Job placement rate from an institution;
Cost of attendance and location.
Among these factors, academic reputation and the availability of the desired program are the most important ones.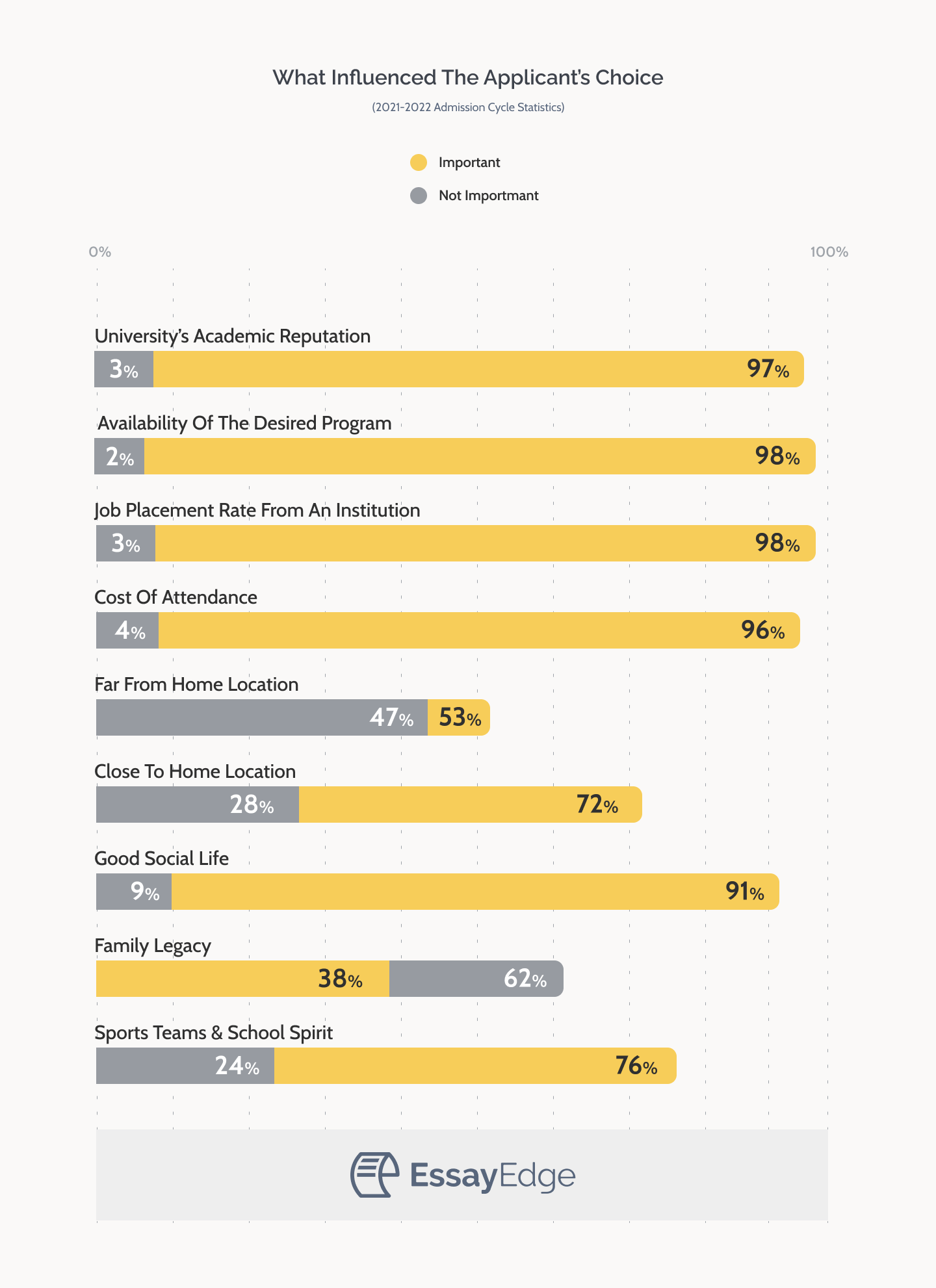 Some Universities Have Not Released the Data
The most selective universities decided not to release the acceptance rate, as well as average SAT and GPA scores. University of Pennsylvania, Stanford, Princeton, and Cornell University are on this list. 
This decision is related to increasing cases of anxiety among the applicants. Thus, the officials believe this data can discourage prospective students from choosing them for application. Still, it becomes obvious that the acceptance rate continues to decrease. With the rising number of applications, colleges are more selective from year to year.
2022-2024 Admission Cycle Predictions 
It is possible to guess some trends for the upcoming admission cycle. Here are the most likely ones:
The increase in applications is related to optional tests. It is predicted that they will still be optional for a few years. What is more, the application fee will increase, making a good revenue for the colleges. Still, the number of students who get waivers is also rising. So, the pool of applicants will continue to diversify. 

Admit rates will still be very low.

The matter is that the class size has remained constant for almost 50 years, but the number of applications has grown significantly during the last 2 admission cycles.

The personal and supplemental essay will play a significant role. It becomes harder for the admission committee to choose the most prospective applicants based only on the test results. Thus, the personal statements help the committee to learn more about your personality and decide whether you are the best candidate or not. 

Diversity, Equity and Inclusion Policy (DEI) will be a top priority, as the top schools are searching for the best solutions to implement these criteria in the admission process.

So, BIPOC and low-income students will still have more opportunities to get into highly selective institutions.

High SAT or ACT scores will increase your chances of successful admission.

How to Compete for a Place
We also prepared some useful tips on how to increase your chances of getting the desired place in your dream university. Let's look through them in detail:
Highlight Your Diversity
As mentioned above, colleges tend to make the admission process more inclusive. That's why your diversity is your power. For instance, if your test results and GPA are not good enough, choosing schools with higher acceptance rates will work.
Think Thoroughly About Your Choice of Universities
Make sure that colleges in your list correspond with your experience, skills, goals, and dreams. It is crucial to stay realistic about your chances of admission. For instance, if your test results and GPA are not good enough, it's better to choose schools with higher acceptance rates. 
Do Not Underestimate Your Personal Statement
A personal statement can boost your chances of successful admission. It is your chance to show off your unique personality, experience, and skills. Thus, it's better to spend more time and effort crafting great admission essays. 
If you need help, our best experts will assist you and polish your personal statements. Our clients got accepted to top schools, including Ivy League colleges. So, we know for sure how to improve your admission documents. 
Be Careful With Early Admissions
It is very hard to predict the acceptance rates during the early admission, even if they tend to be higher than during the regular one. Still, be strategic while choosing the institution for the early action and consider all your strong and weak sides.
Demonstrate Your Interest
Visiting a university of your choice is also a nice idea. It's a way to demonstrate your interest in studying here. If you have such an opportunity, register for a visit with the admission reception desk. This way, the admission committee will see your initiative to be a part of their community. 
Learn More About a Chosen College
It's important to know more about a chosen institution. Data about acceptance rate, average GPA, and test scores is not enough for successful admission. 
It will be great to research the official website and find info about what qualities the admission committee is searching for. No doubt, this will help you understand what skills and experiences to highlight in your admission essay or during the interview.
Final Words 
The last application cycle impressed everyone with the record-breaking statistics on the number of applications and admission rates. It becomes clear that the competition is going to be quite tough during the next admission cycle. So, we recommend starting preparing for it thoroughly.  
Hope that our advice and tips will be helpful. Now, you know what you can do. But how will you act—it's only your choice. So, our team wishes you all the best in this competition!
Although the 2022-2023 admissions cycle is already open, so it's the perfect time to analyze past trends and predictions for this year. We've already done it for you, so keep this information in mind. The importance of your application paper remains high. Pay the utmost attention to its quality if you want to earn a seat in college. The best editors from Essay Edge can proofread the whole package of your documents and help you.
FAQ
Will college admissions be easier for 2023?
Will college acceptance rates go up 2023?