Updated:
February 15, 2023
Low GMAT scores often become a catastrophe for the applicants. They believe that they have no more chances to get into their dream university. Still, it's not the end, and it's still possible to change everything. Our experts prepared a guide on how to explain low GMAT scores and boost your chances for successful application.  
The latest statistics show a decrease in GMAT takers in the last two years. It is mainly related to the coronavirus pandemic and the decision to make GMAT optional. Here is a summary of the relevant reports:
During the 2020-2021 admission cycle, applicants tended to take GRE instead of GMAT, which resulted in a 10% increase in GRE submission;

The 2021-2022 admission cycle is related to the decline in GRE submission among the top schools.
Despite the decline in GMAT submission, the average GMAT scores grew during the 2021-2022 academic cycle. This tendency can be seen by comparing the last two years' scores: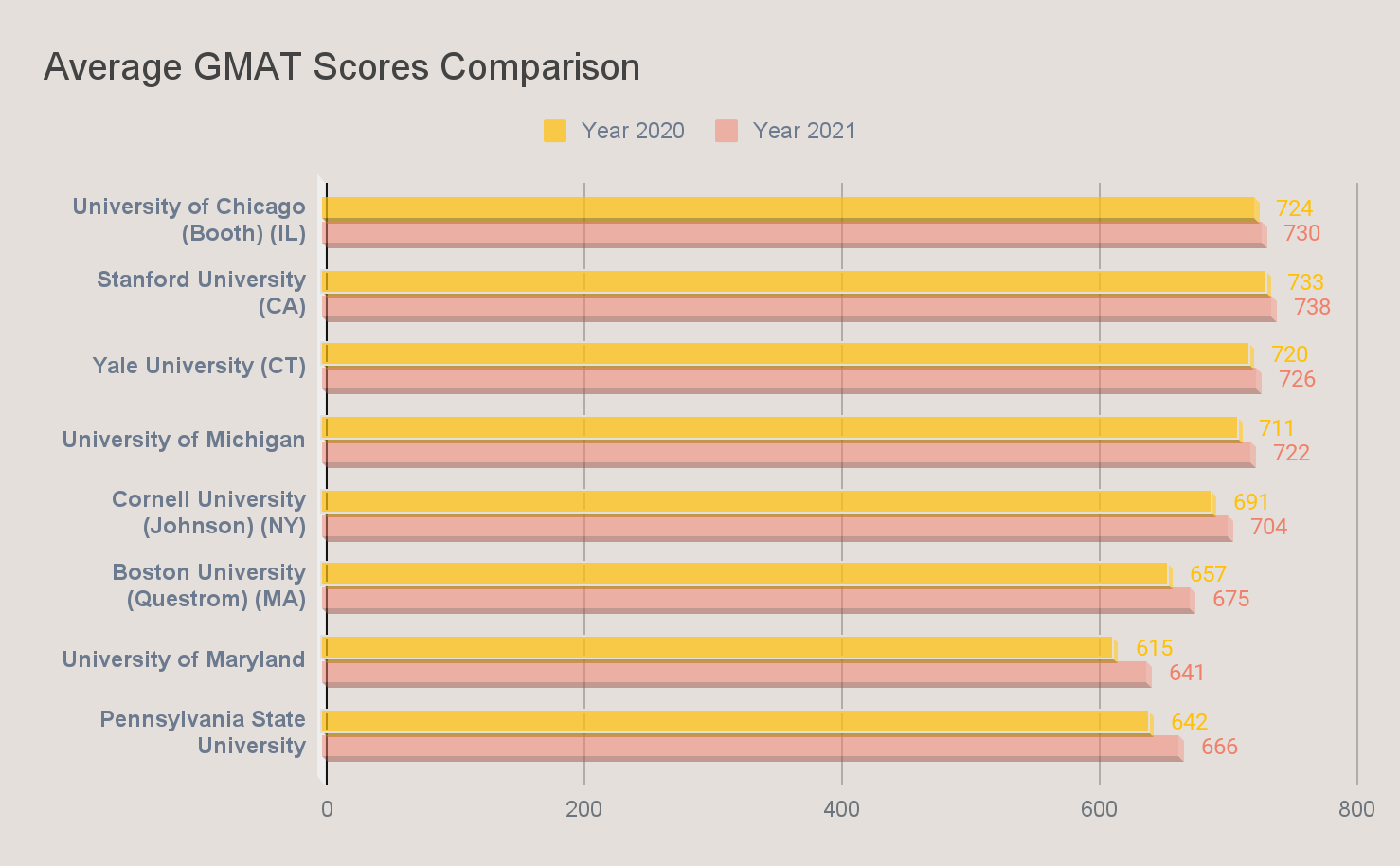 Thus, the GMAT scores are extremely important for successful application. But what to do if your test results are not significant? 
Why Is a Strong Essay So Important?
If you got low GMAT scores, it's not a reason to give up. Nothing is lost yet! The best thing you can do in this situation is to calm down. Then, you need to choose the best strategy and act! 
Here you can find some recommendations on what to do with your low scores: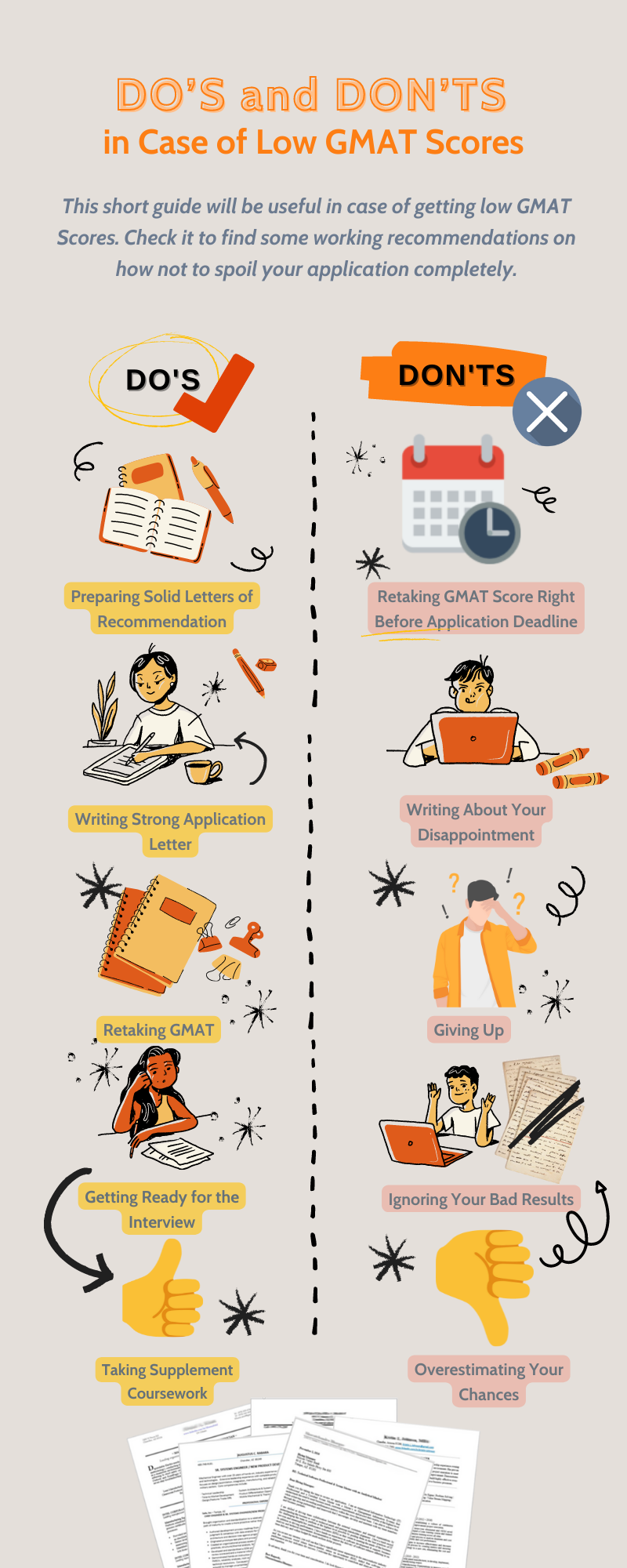 Why can these actions affect your application process? Let's discuss them in more detail. 
Things To Do in Case of Low Results
Retaking GMAT. 

Retaking the GMAT is a great chance to increase your score. It's possible to retake GMAT 5 times every 16 calendar days (during a rolling 12-month period). The only important thing is to prepare for retaking carefully.

Preparing Solid Letters of Recommendation. 

Make sure that LORs tell you about your personality, talents, accomplishments, experiences, and contributions. Also, LOR should correspond to a chosen program. This way, you will have a chance to upgrade your profile.

Writing Strong Application Letter. 

A strong application letter is a nice opportunity to explain your low GMAT scores and highlight your unique personality, background, and experiences.

Getting Ready for the Interview. 

If you are invited to the interview, congratulations! It's time to show off your personality. Do not focus on your low scores. Still, take this chance to stand out from the crowd and show that you are the best choice for them.

Taking Supplement Coursework. 

Supplement courses can help ensure the admission committee that you have relevant skills and experience despite the low GMAT scores. Also, it will be a significant boost for your profile.
Things to Avoid in Case of Low Results
Giving Up. 

Some students choose this strategy believing that they can do nothing. That's why they just leave things as they are and wait for the next application cycle.

Retaking GMAT Score Right Before Application Deadline. 

In this case, a student decides to retake a test but waits until the last minute. It is a bad idea because you can fail the test again and won't have a chance to retake it once more.

Writing About Your Disappointment. 

Some students write about their disappointment because of low GMAT results in the application essay. We recommend avoiding it because you can spoil the admission committee's impression of your candidacy.

Ignoring Your Bad Results. 

One more bad idea is to ignore bad results and not try to explain your low GMAT scores. Remember that even your biggest mistake can become a strong advantage for you.

Overestimating Your Chances. 

It is better to prepare a backup plan to boost your GMAT scores. We recommend searching the universities that accept students with low test results.
No doubt, the application essay is an effective method to explain low GMAT scores. It is a chance to make a good impression, show a unique personality, and highlight the significant background and experience. Therefore, writing a strong essay will benefit the whole admission process.
Tips To Craft A Strong Application Essay 
We prepared the five best tips to craft a strong application essay. With these recommendations, you will know how to tackle the question of low scores.
Show Your Leadership and Analytical Skills
First, you need to focus on your leadership and analytical skills. The only important thing is to do it correctly. The best way to highlight your strong skills is to add practical examples. So, make a linkage between your skills and relevant experience by describing a certain situation.
Highlight Your Motivation
Your strong motivation is crucial for persuading the admission committee that you understand the importance of the chosen program. Do not use cliches and focus on your personal reasons for getting into this program. 
Show Your Unique Personality
If you want to shift the focus of your low test scores, show off your unique personality. Tell the admission committee about things and people who made you be the person you are. Do not forget to write about a life challenge and how you overcame it. 
Do Not Justify Bad Results
The best working method is to explain but not justify your bad results. Avoid writing about your disappointment. Instead, choose a clear and quick explanation. Also, you can mention how you solved this issue. For instance, you took supplement coursework and improved your knowledge and skills relevant to the chosen program. 
Be Specific and Factual
Finally, you need to be clear, specific, and factual in your application essay. Your real-life experience is the best way to tell about your achievements and why they are so important for your application and further studying. 
Final Words
Even in the case of low GMAT scores, you have a working strategy on how to benefit from this situation. Thus, the application essay is the most effective way to explain low test results and assure the admission committee that you are still the best candidate for the chosen program. 
Anyway, we wish you good luck with your application and believe that you will definitely succeed!
We usually state that test results aren't very important, but it doesn't apply to MBA. If your GMAT scores are low, you shouldn't get disappointed. Follow our recommendations and try to turn the situation to your advantage. Our MBA essay service can revise your paper and suggest possible improvements if they are necessary.