Ivy League colleges are known as prestigious and the best higher education institutions not only in the US but also in the world. But is it really true? 
We are going to discuss the price of prestige depending on several factors. Latest statistics, comparison with other grad schools, ranking, salary rate — all these points will help you to make a final decision. Also, we asked John, a Class of 2019 Harvard student, to share his experience. So, let's start a great debate!
What Does an "Ivy League" Education Mean?
Ivy League education means selective admission, high competition, prestigious name, and worldwide recognition. Still, some aspects related to Ivy League colleges are quite controversial. Some believe that it is just a waste of money, while others do all their best to get into these institutions. So, where does the truth lie?
Let's focus more on the things that make Ivy League colleges so special and controversial at the same time.
What to Consider Before Applying
These facts are crucial to know before applying to one of the Ivy League colleges:
These grad schools are very selective;
The competition is really high, and the acceptance rate is very low compared to other higher education institutions;
High GPA and test scores are vital to get into these colleges;
Outstanding school transcript and brilliant personal statement are the musts.
Ivy League Ranking 2022
It is known worldwide that Ivy League colleges are ranked as the best higher education institutions in the US. Here are three ranking lists, including Forbes, Niche, and US News. Each of them is focused on different features:
Forbes emphasizes student outcomes;
Niche focuses more on the quality of life (including campus housing, technology, diversity, and so on);
US News pays attention to academic reputation.
So, let's have a look at how Ivy League colleges are ranked depending on different criteria:
NB: the first number corresponds to the relative rank of each Ivy League college within the list, while the second number in parentheses indicates average national rankings.
What Does It Take To Get Into an Ivy League School?
John's Story (Class of 2019):
When thinking about my admission to Harvard, a lot of memories come to my mind. It was sooo exciting and freaking hard at the same time! Foremost, everything starts early before the application itself. It was a hard slog for me to get the highest scores, improve my performance, and take part in after-school programs. Tho, it was just the beginning. 
The main challenge was to stick to the deadlines and prepare all necessary docs. Believe me, I was really freaking out with all this stuff. My main advice for you, guys, is to start early and do not wait until the last moment. 
You should write the best essay you've ever written in your life. Focus on your personality, why you are the most brilliant person in our Universe (yeah, I'm not joking right now). Do not pretend to be someone else, it's a bad idea, believe me. 
And the last thing you need is to calm down. Yeah, I know that it's almost impossible. But it really works. After you submitted all the docs, the only thing you can do is wait, wait, and wait. Still, if your preparations were perfect and you did your best, you'll be rewarded anyway. 
Pros and Cons of Ivy League Education
When people hear about the Ivy League, they think about prestigious colleges, dozens of benefits, and crowds of applicants have a dream to get a desired "Accepted" notification. But we know that every coin has two sides, and the Ivy League is not an exception.
Main Benefits of Ivy League
Excellence of Faculty and Teaching
Only the best of the best applicants have a chance to get into Ivy League colleges. The same is related to the professors and teaching staff. Also, some of the undergraduates are engaged in research and extracurricular activities. So, be sure that you will be surrounded by opportunities to enrich your social and academic experiences.
Ivy League Network
Ivy League colleges have a network of extraordinary students and employers. For instance, Princeton University is known for its International Internship program offering a variety of employment opportunities around the world. The same is in other colleges — they all have a friendly community that supports alumni even after graduation.
Variety of Resources is Available
Ivy League students also have access to resources of all kinds. It is related to different fields of study or research, including large libraries, studio spaces, and funding. So, every student can rely on extracurricular initiatives and academic or small business projects support.
Recognition
The prestige of Ivy League colleges is taken for granted, as these educational institutions are ranked as the top universities.
When the student mentions Ivy League colleges in his/her resume, it will be a huge benefit for successful employment. Thus, the main reason for that is not the name, but the quality of knowledge and skills they have and get during studying. In addition, research shows that Ivy League alumni are more likely to get the highest-paying jobs.
Main Drawbacks of Ivy League
Some of the drawbacks are quite controversial. But in some cases, they can become reasons for not applying to these grad schools.
High Costs
Tuition in Ivy League universities is not cheap at all. It starts from $51,000 and reaches $61,000. And these sums do not include other expenses, such as housing, supplies, and so on. Even if these colleges offer grants and financial aid, it does not mean that the student will graduate without loans.
Increasing Competition
The competition in Ivy League colleges is really high. Everything starts right after the admission process. Because only the best applicants with the highest grades are accepted to these grad schools. The same happens during the studying process.
On the one hand, it is extremely stressful. But on the other hand, it depends. In some cases, the competition includes several benefits.
Inclusivity Issues
Ivy League colleges have a reputation of being less inclusive institutions than other grad schools. Nevertheless, these universities are on the road to becoming more diverse in racial and socio-economic frameworks.
Also, John shared his opinion with us concerning the most outstanding pros and cons of studying at Harvard:
From my personal experience, I'd like to mention that the best experience that comes to my mind is related to my profs. Harvard, the same as other Ivy League universities, has a low student-faculty ratio. It means that professors dedicate more time to each student. My class consisted of 6 students, and it was really great because everyone had enough time to discuss different issues or ask questions. 
As for the high competition, it's really true. Right from the first day of studying, I felt like everyone was better than me. Of course, everyone at Harvard is smart and talented. Still, every student has a unique personality and has a chance to stand out. Thus, competition can be stressful, yes. Still, such a challenging situation opens new doors to inspire, create, and improve. 
Top 3 Popular Majors at the Ivy League
We prepared a list of the top-ranked majors that are the most demanded among the Ivy League applicants from year to year.
Columbia University
Columbia University is one of the oldest grad schools in the US. It is best known for the place where numerous important inventions were made. Also, the university founded the Pulitzer Prize.
The most popular majors here are the following:
Political Science;
Economics;
Psychology.
Yale University
Yale University has 12 professional schools and is best known for social and law schools. The most demanded majors:
Political Science;
History;
Economics.
Brown University
It is a private research university that allows students to design personalized courses to boost their creativity and ability to take risks. The top-wanted Brown University majors include these ones:
Computer Science;
Economics;
Biology.
Cornell University
Cornell is one of the youngest Ivy League universities. It has seven undergrad schools and colleges aimed to discover and preserve knowledge, as well as produce creative works. The most popular majors here: 
Biology and Biomedical Sciences;
Business, Management, and Marketing;
Engineering.
Dartmouth College
Dartmouth College is the most famous for its computing innovations. It is a place where the BASIC programming language was developed. The three most wanted major programs are the following: 
Computer and Information Sciences;
Social Sciences;
Engineering.
Princeton University
Princeton University is the fourth on the list of the oldest higher education institutions in the US. Specialized libraries, low student-faculty ratio, variety of academic resources, and support services — all these made Princeton one of the world's best grad schools.
Most of the applicants prefer to choose these majors:
Woodrow Wilson School;
Computer Science;
Economics.
University of Pennsylvania
The University of Pennsylvania has the highest percentage of international students compared to other Ivy League colleges. The most popular majors here:
Economics;
Finance;
Nursing.
Harvard University
Harvard University has the most strict and selective admission committee. Furthermore, it has the lowest acceptance rate. Among the top-rated majors are the following:
Government;
Computer Science;
Economics.
Ivy League Tuition and Return on Investment
It's also crucial to compare the tuition costs and cost of attendance for each Ivy League college.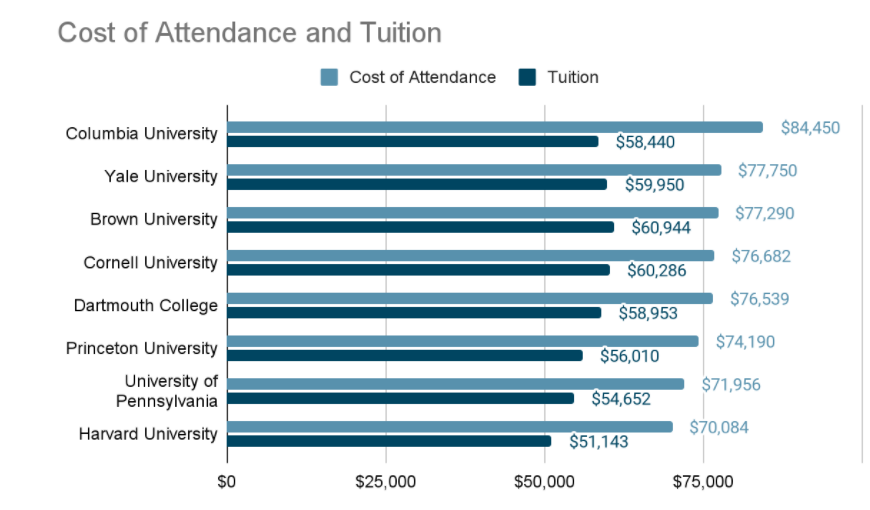 As for the Return on Investment (ROI) rate, the statistics show these numbers: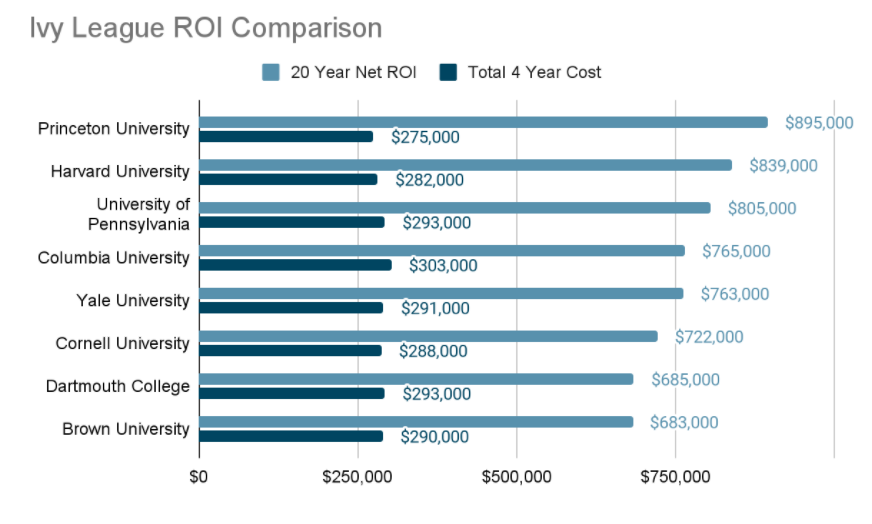 Comparison of Salaries
According to the latest statistics, the starting salaries of the graduates will increase in the next three years. Here is a comparison of the average annual wages of the graduates depending on the college category.
| YEAR | PRIVATE SCHOOL | IVY LEAGUE | PUBLIC SCHOOL |
| --- | --- | --- | --- |
| 2022 | $85,778 | $78,048 | $82,212 |
| 2023 | $90,993 | $82,794 | $87,210 |
| 2024 | $96,526 | $87,828 | $92,512 |
Key Takeaway
To conclude, all factors play a crucial role in making the final decision about your future. So, do not hurry and think carefully about what you want to get from the chosen grad school.
We hope that our complete review will help you make the right choice. Anyway, our experts are always ready to give you a helping hand, no matter what institution you are applying to.
We constantly prove the qualifications of our editors by pointing out their Ivy League background. Studying there makes sense when you have clearly defined goals. We'll provide top-quality services regardless of your target school. Order expert proofreading for letter of motivation here and guarantee earning a seat in college.
FAQ
Is MIT an Ivy League school?
What GPA do I need to apply to Ivy League colleges?
What can I do to increase my chances of getting into Ivy League college?
Which Ivy League grad school has the most competitive admission process?
In which Ivy League college will I have more chances to get into?
Is the Ivy League better than Harvard?
What are the benefits of going to an Ivy League school?
What is the world's #1 university?
Are Ivy League colleges more expensive?