Carl P.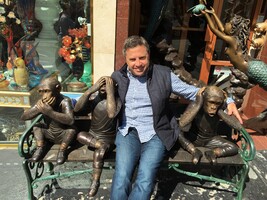 A.B., Anthropology
Harvard University
"I'm here to help you unleash the power of your writing through clarity, language, and structure."
Carl P. began working with EssayEdge twenty years ago and loves providing the support and expertise that writers need. A graduate of Harvard College, Carl also earned two graduate degrees in English and Education. Carl has taught English and writing to students in high school and college and has worked as part of admissions offices at a variety of schools. He has worked with literally thousands of writers to hone their craft and improve their work. He's looking forward to working with those who need that extra boost to present their best selves.
Get Started!
9 / 10 service rate
10 / 10 editor rate
I feel like's Carl's input significantly improved my chances of being accepted. Thanks to the support team for suggesting that I work with him!
Slavoj Z.
University of Notre Dame March 2023
10 / 10 service rate
10 / 10 editor rate
I most appreciated the quality of the critique. I felt as though I had a productive conversation with the editor. I understood the reason behind every suggestion and edit.
Miguel R.
Harvard University December 2022
10 / 10 service rate
10 / 10 editor rate
My editor has done an amazing job revising my Research statement in such a short time period. I received helpful feedback and suggestions.
Kathy B.
Yale University November 2022
10 / 10 service rate
10 / 10 editor rate
Comments and edits are really meaningful for me, so I will recommend EssayEdge to my friends.
Melanie E.
Massachusetts Institute of Technology October 2022
10 / 10 service rate
10 / 10 editor rate
Thank you for your comments on my essay. It is really helpful to improve the quality of my essay. In particular, your comments on tone change are beneficial because many Koreans don't know whether it sounds like lacking humility or expressing confidence for typical Americans. And revising my paragraphs makes my essay better to read and more concise. Great modification. I really get confidence. Thank you!
Yoko T.
Cornell University September 2022
9 / 10 service rate
10 / 10 editor rate
Carl did a very comprehensive edit and critique of my daughter's essay. We are looking forward to submitting some additional essays to Carl for his feedback.
Karen M.
Columbia University December 2022
Get Started!