Updated:
February 12, 2023
Search
Applicants often forget about formatting a college essay, believing that only the content does matter. But what if we say that inappropriate college application essay format often becomes the main reason for a big failure? A college essay editor can help you create your document because they understand how the college paper format affects the entire text.
EssayEdge experts have analyzed various types of college essay formats to choose the best for your admission process.
College Paper Formatting Tip Number One: Define Your Topic
Choosing a topic is the first task to start formatting your essay. The topic is provided by your choice of college or university. The way you describe your story will considerably affect how the commission responds to you. To impress them, you need to choose the format that can best reveal you as a person.
It's probably easiest to ask friends and family what idea they have of you. By collecting opinions, you can form an adequate opinion about yourself. Your loved ones can certainly tell you about your character because they spend a lot of time with you. This way, you may even get ideas for a story when a friend mentions a bright moment together, long lost in your memory.
The important thing is that you should not choose some pompous event, the best of the best. You can describe ordinary days, and dialogues with people. In general, the format is unlimited. Often unusual essays attract much more attention than the usual ones. But do not forget that your mission is to show your uniqueness.
Outline Your Work
At first, your format of work is to structure ideas, selecting the best ones. It is most profitable to start writing in advance, with the opportunity to choose another option.
College Essay Word Limit
Often there is a word limit on your college essay. Sometimes this is not indicated in the assignment. However, experts in the selection committee recommend sticking to about 500-650 words. Nevertheless, many tasks may still give you a different word limit. In this case, you should follow the instructions without violating the minimum or maximum word limits.
College Essay Structure Format
The truth is that, as we said earlier, you can choose the format of the structure yourself. Yet, it's often best to lean on something familiar by resorting to the standard format, which consists of:
Introduction
Body text
Conclusion
Also, you better think about how to come up with a title. The headline should be catchy and be a kind of hook, but do not overdo it. Stick to the topic of your essay.
It doesn't matter what your story is. Almost all of them have a beginning, development, and end. You can indeed manipulate all these parts however you like. But remember to stick to the limit.
Your essay must be an independent text, without understatement. Also, don't make the writing too confusing. The commission is unlikely to puzzle over the essay, trying to decipher it.
How to Format Headings?
Usually, it depends on the formatting style. But if no formatting style is required, then you need to include such information:
Your name
Name of the instructor/supervisor
Course/Academic Program
Date of submission
–
DESCRIPTION
WHAT TO INCLUDE
INTRODUCTION
An opening paragraph that introduces the chosen topic

Eye-catching hook;
Factual statements;
Any of the rhetorical tools.

MAIN BODY
The clear answer for the essay prompt;

The main aim is to show that you are an applicant with unique experience and personality.

Challenges

How you overcame certain problems and their effects on your worldview

Achievements

Tell about your accomplishments, people who helped/inspired you;
Show the relation between the experience and achievements.

Life Lessons Learned

Highlight the importance of your experience for your personal growth.

Beliefs

Your opinion concerning important social or political issues (but be careful with sensitive topics).

Goals

Include your personal, professional, and academic goals;
Focus on the linkage between your short-term+long-term goals and chosen academic program.

CONCLUSION
Call to action or re-statement of the main thesis

Re-state why you are the perfect candidate for the chosen college;
Highlight why this institution does matter for your goals.
Should I Use College Essay Templates?
College essay templates can be found online. This template contains instructions on how to format a college application essay and what to write in each paragraph. We strongly recommend that you do not use templates. Your essay will look trite and boring. You have to think of many ideas on your own.
However, instead of using templates for your college essay, we encourage you to conduct research. You can find applicants' blogs or read many sample essays to grow your imagination and experience.
How Should a College Application Essay Be Formatted
First of all, ensure that your document corresponds to the rudimentary college format essay requirements. Here are the main things to check:
The margins are usually 1 inch;
Line spacing can be single or double-spaced;
As for the paragraphs, make an indentation for the first line in each paragraph (use a tab);
Fonts should be standard (Times New Roman, Calibri, or Arial are among the frequently used ones);
The font size 12 is the best choice to make the text readable;
The text should be left-aligned (instead of the title, which is centered).
Should I Use a Paper Format?
Many colleges and universities allow candidates to submit their essays by mail. But the truth is that many schools prefer to receive writings by email. It significantly simplifies their work. In addition, it is still better to choose the preferred method of delivering the essay.
In addition, by sending your essay by email, you deprive yourself of the fear that the delivery will fail. Of course, it happens that emails are accidentally lost or may arrive at a different address. However, such incidents are much less than problems with mail. Digitalization has considerably simplified the process of filing documents and essays.
How to format text if…
If I will be copy-and-pasting into a text box:
Copying and pasting an essay can mess up the spacing between paragraphs. So make sure all paragraphs are separated by tabs or line breaks if tabs don't work.
The font will probably be standardized, but if not, choose a standard font such as Times New Roman or Arial (choices may be limited) and choose a normal size (12 pt).
Formatting such as bold and italics may be lost when copying and pasting. Bold and italics also may not work in text fields and are not recommended.
It is also worth mentioning that when transferring an essay, your text may lose many characters. Unfortunately, they may even be replaced. Therefore, it is worth checking the finished text again.
If I use Microsoft Word (.DOC) format
Luckily, you can open Word in almost any text program. If you send your essay as a download, you will most likely submit a .doc or .docx file. The downside is that MS Word files are editable. Also, conflicts can occur between different versions of MS Word (2010, 2016, and Office 365).
If I use PDF format
It is worth using the PDF format to leave the essay view intact. It allows you to preserve all characters. Moreover, no one can edit your text. It is a great tactic, but it is worth making sure you are legally allowed to deliver the document this way. Some schools may not be ready to receive PDF essays.
If I write MLA
It is also possible to choose MLA or APA college application essay format if you send it as a file. Here are the main characteristics of the MLA style:
There should be an identification header (Your full name, Professor's name, Course, Date)
Add the surname and a page number in the upper right corner of the document
The title should be centered and in title case, but not bolded, underlined, italicized, and so on
Indent the first line in the paragraph by using «Tab»
To format a college essay correctly, use a double space
Make 1-inch margins on all sides
Do not forget to add one space after the punctuation marks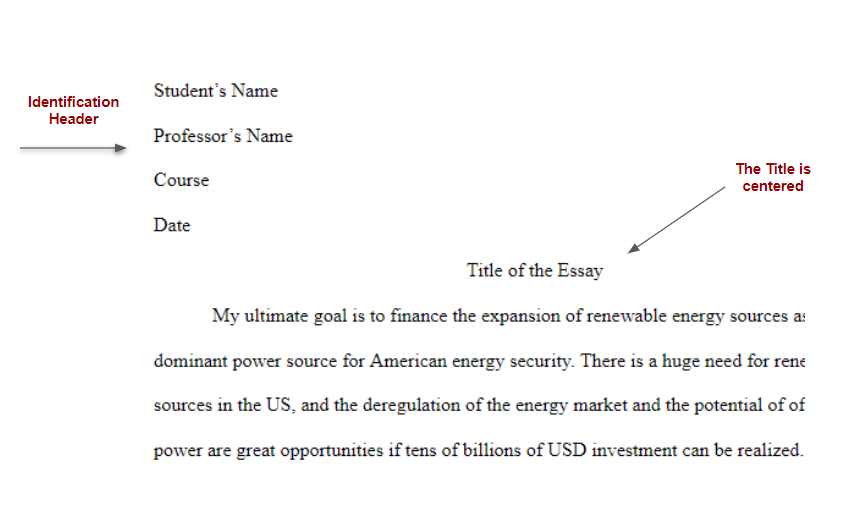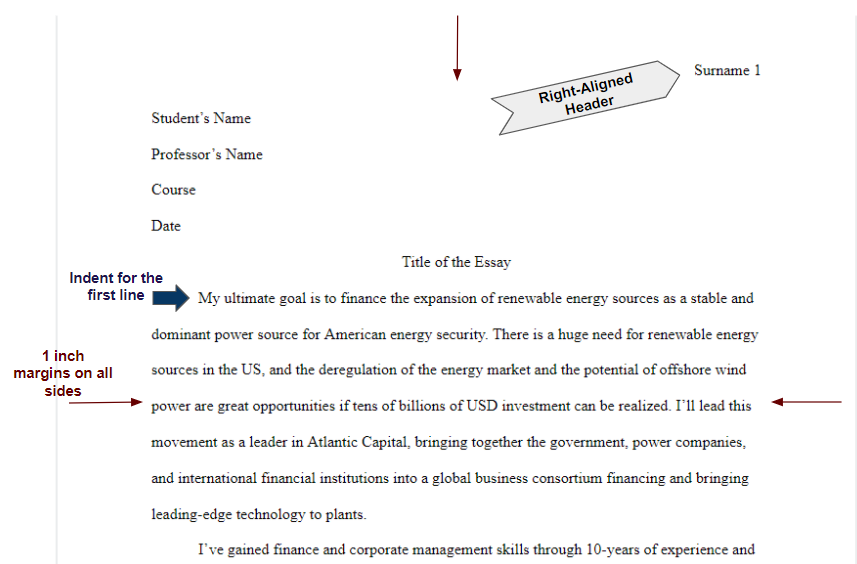 If I write APA
No running head is needed according to the new 7th edition
The page number is right-aligned
Margins, spacing, and indentation are the same as in MLA formatting college essay style;
The title should be centered, bolded, and in title case, but not in caps, italicized, or underlined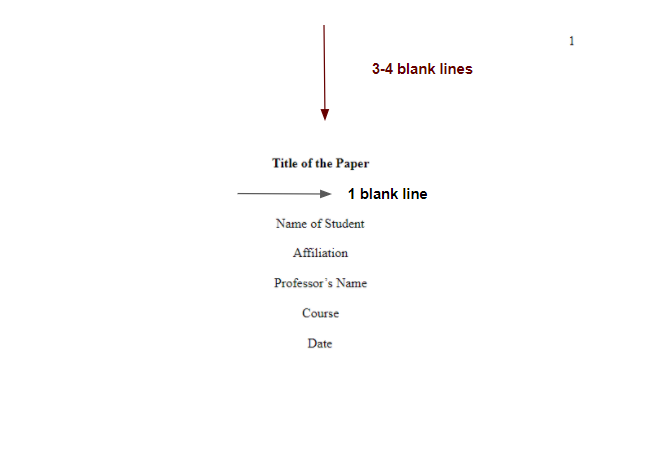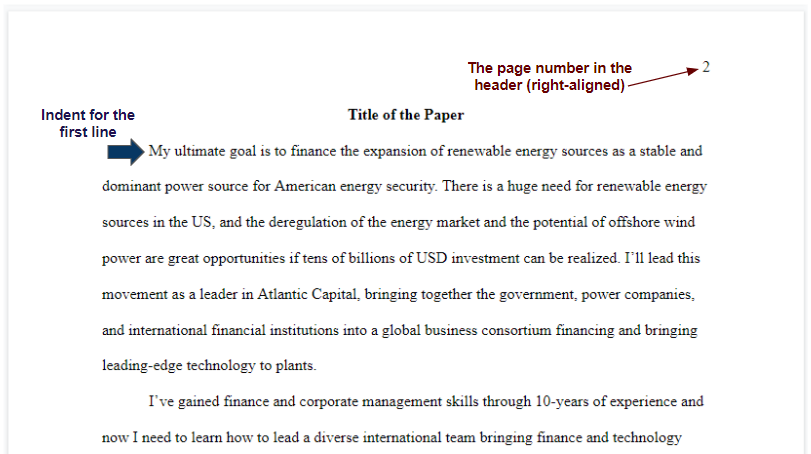 Title of the Essay Format
Add the title page that contains several items (all are centered):
The title of the essay is placed 3-4 lines below the margin
1-2 blank lines
Student's name
Affiliation
Course
Professor's name
Date
Additional College Essay Formatting Tips:
Do not include the title if it is the same as the essay prompt. This way, you will waste your word count;
Do not write a wall of text. It makes your essay format college paper look like a mess. Divide the main body into several paragraphs.
Avoid writing sentence by sentence without transitions. Add linkage between the sentences and paragraphs.
Find someone you trust to read your essay and give you constructive feedback. It could be a trusted teacher, parent, school counselor, or college student. It is best to choose someone familiar with the purpose of the college essay.
Don't let anyone else write this essay for you. No one will tell about you the way you tell yourself. In addition, you will not be able to answer later during the interview. Instead, you can turn to EssayEdge for help editing your college essay.
Use a real example. Add events and vivid details from your life. It will add color and persuasiveness to your personal statement. Your example shows that you embody the traits valued by the university.
Bottom Line
Essay writing is a skill that is easy to learn but hard to master. While not a very exciting part of the applicant's experience, it is best not to skip it. Formatting improves readability and makes the essay easier to understand. When citation style, heading format, or other factors are constantly changing, it draws extra attention, and the reader's concentration on the text is reduced. Therefore, to avoid such problems, applicants should start practicing in advance, and find a professional editor if necessary.
FAQ
What format will work the best for a college application?
Is there a difference between MLA and APA?
What is the proper format for a college essay?
Are college essays submitted in MLA format?
Do college essays need to be double spaced?
What makes a great college essay?