Our research showed that generating content via ChatGPT is illegal for these purposes, and we are going to show you why. Still, if you need to increase your chances of application, you can make your essay look brilliant with the help of an expert admission editing service in a legal way.
What Is ChatGPT?
Chat Generative Pre-Trained Transformer, mainly known as ChatGPT, is a text-based chatbot launched by OpenAI. This revolutionary tool provides responses to typed questions in a human-like form. The large language model chatbot is capable of interacting with humans in a dialogue-conversation manner.
How Does It Actually Work?
Large language models are usually trained with a vast amount of data, enabling them to predict the next word. This ability makes it capable of writing sentences and even paragraphs of text. But ChatGPT goes beyond this method of training.
OpenAI applies an innovative technology called Reinforcement Learning with Human Feedback to make the responses more human-like. As a result, the next-gen chat is able not only to provide responses but also to generate various content good enough to use for marketing, email, and customer support needs.
Main Benefits of Using ChatGPT
ChatGPT has a large number of benefits. First, it can be used as a super productive search engine. Still, the algorithm for giving responses differs from what we all used to perceive. It does not search the Internet. Instead, the innovative chatbot gathers a wide range of learned information by training on data and transforming it into a response. Perhaps, it will replace well-known search engines very soon.
ChatGPT can be applied in various fields, including online shopping, customer service, and hiring and training staff. Moreover, interactive storytelling experiences enable it to generate content. Here are more examples of possible ChatGPT application:

This artificial intelligence tool can be successfully used in the sphere of education, with benefits for both educators and students:

Major Risks of ChatGPT: How Can It Reduce Your Admission Chances?
Educators raised the alarm about the disruptive effect of ChatGPT on the learning process. For instance, the NYC Department of Education has already banned the next-gen chatbot from public school networks and devices. But what is the cause of such a sharp reaction?
First of all, students can use it for cheating as ChatGPT provides a quick and thorough response. So, they do not even need to look through the number of search results to get the most relevant one. But the real threat is the damage to critical thinking, problem-solving, and writing skills. Finally, the safety and accuracy of content concerns raise worries among educators.
However, not everyone supports these regulations. The opponents believe it's better not to ban it but find beneficial ways of using AI technologies for pedagogical purposes. Anyway, the student will have the opportunity to use this tool via their personal devices. For instance, researchers from the University of Texas claim that it's possible to implement AI to raise genre awareness, writing style, and content revision skills.
On the whole, using ChatGPT for preparing academic or admission papers violates academic integrity principles, as it can be regarded as cheating. Moreover, it can reduce your chances of application because there is a risk of plagiarism.
Why Is It Better to Write on Your Own?
Undoubtedly, every applicant wants to craft the best possible essay to increase the chance of entering the desired institution. That's why many of them are ready to take such extreme measures as generating content via artificial intelligence.
At first glance, this idea looks brilliant. Fewer efforts, free service, fast results—everything sounds great. So, why shouldn't you benefit from this innovative method of "writing"? Still, it's not as simple as it seems. So, let's figure out the risks.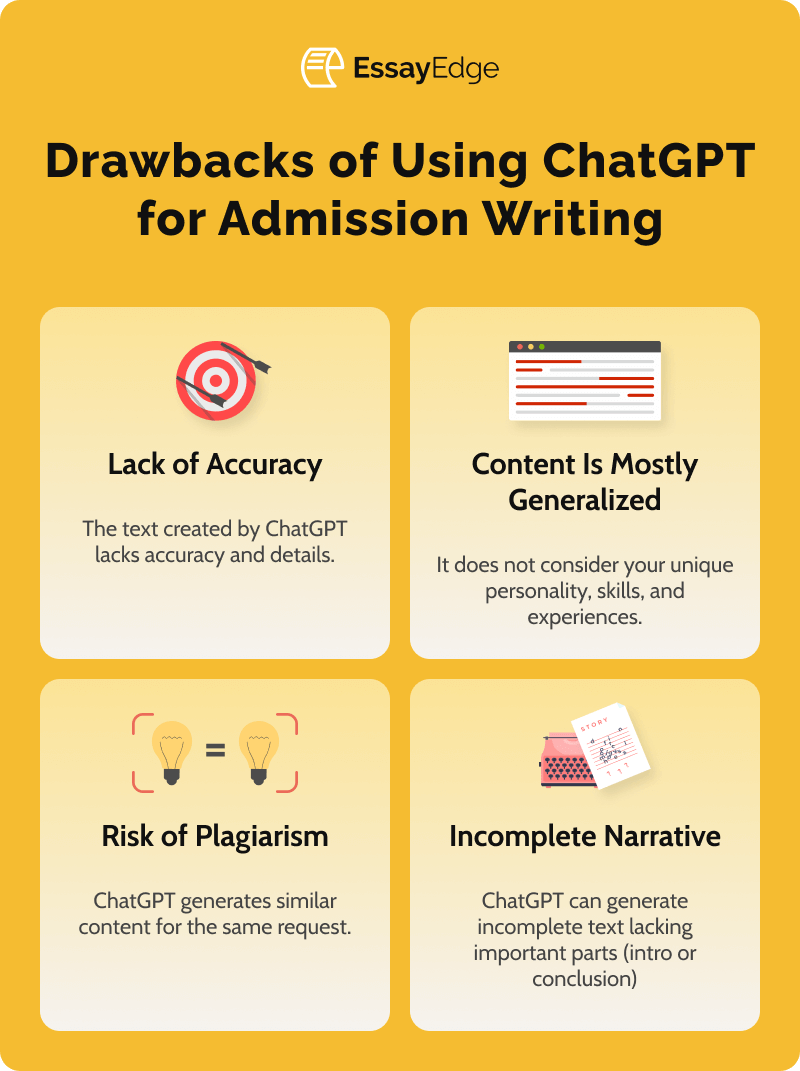 Lack of accuracy. ChatGPT faces problems with creating accurate and detailed content. It's related to the way it responds to the request. It tries to predict what word should come next in the sentence or paragraph. So, the text can have some inaccuracies, while the admission paper requires high quality, logical order, and concrete details.
The content generated by ChatGPT is mostly generalized, making it impossible to stand out. Only you know why you are unique and can highlight your uniqueness. AI does not consider your background, experiences, strong sides, and skills. Besides, the request is limited because you cannot provide many instructions and details.
A great risk of plagiarism. Let's imagine the hypothetical situation that several applicants make similar requests to write an "outstanding personal statement." According to the current algorithm of ChatGPT, they will get similar content in the output. So, the chatbot has certain limitations in terms of content originality.
Failure of narrative completeness. A lot of users complain that the text looks incomplete. ChatGPT has difficulties with making introductions and drawing summaries. So, it can negatively affect the structure and format. Moreover, you can make a lot of effort trying to complete it or improve the quality of generated content.
Admission paper is your chance to win the committee's heart and enter your dream university. But what makes your admission essay work for your success? The answer is very simple—it should be personal and highlight your uniqueness among the crowd of competitors.
Still, the content produced by AI is quite far from originality and highlights personality uniqueness. So, the question comes to mind: "Is it worth taking a risk?" Because in the end, you won't get what you've expected.
Anyway, writing the admission papers on your own implies original and personalized content and confidence that you've done your best to win the competition. Even if you have doubts about your writing skills, professional editing and proofreading will help you clear up all the doubts. Together with a feeling of confidence, you'll boost your chances for successful admission.
Final Thoughts
Undoubtedly, ChatGPT made a revolution in understanding AI and its potential. Regardless of its tremendous benefits, it is still controversial for many reasons, especially in terms of its usage. By considering its capability to generate written content, it can cause a serious threat to academic integrity. But whether it does more harm than good, only time will tell.
Anyway, using ChatGPT, the same as any other essay writing service, is regarded as a violation of academic integrity principles and admission rules. Cheating is cheating, no matter what tool you implement for this purpose. So, using it for crafting admission or academic papers is definitely a bad idea. Instead, you can write on your own and rely on the expert help of editing and proofreading gurus to ensure the highest quality of your texts.
Thus, the same as with any other technology or innovation, it's better to use ChatGPT to its maximum and benefit from it than use it for bad intentions.
Can ChatGPT write a personal statement?
Can ChatGPT write essays?
Can ChatGPT proofread essays?